One of my favorite Things to Do in Bayfield is to visit Maple Mania and multiple stops on the Maple Syrup Trail
Did you know that Bayfield is also home to some of the best maple syrup in Ontario?
Huron County Maple Syrup Trail

One of the best ways to experience the maple syrup culture in Bayfield is by following the Maple Syrup Trail in Huron County. This trail takes you on a journey through the picturesque countryside, with stops at various maple syrup farms and sugar shacks along the way. Some of the most popular stops on the trail near Bayfield include Bayfield Maple, Schilbe Family Maple Syrup, Westlake Maple Products and Tulip Lane
Sweet Huron – A Maple Tradition
Our pioneer ancestors took advantage of the maple stands on every farm in the county, and relied on the maple syrup and sugar they could reap from the trees to inject a little sweetness into their diet. The spring "sugaring off" season became a family tradition for generations of farm families. Eventually, some farms developed the maple syrup process into a cottage industry and others let the tradition fade away. Now, some families and farms tap just a few trees to get a taste each spring and others have made it a primary crop on their farm.
We checked in with a few producers in Huron who offer farmgate sales and/or tours and here are a few sweet stops for you.
excerpt from Stops Along the Way
https://www.stopsalongtheway.ca/sweet-huron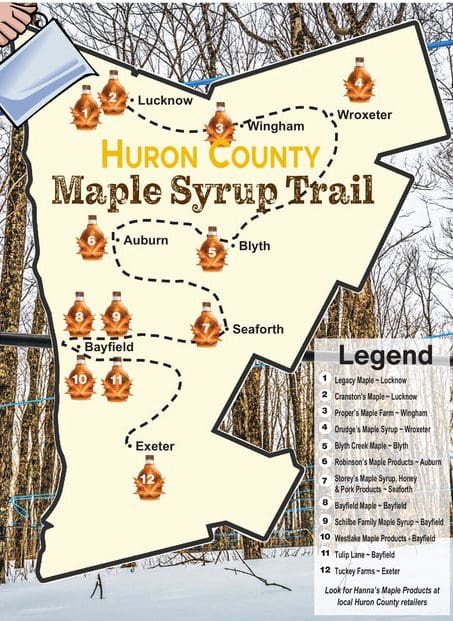 But the maple syrup fun doesn't stop there. Bayfield also hosts an annual event called Maple Mania, which celebrates all things maple. This event includes maple syrup tastings, pancake breakfasts, and even a maple syrup-themed fashion show. Additionally, eight participating farm-to-table restaurants across the county offer maple-themed menus during Maple Mania. For details on this event https://tasteofhuron.com/
So what are you waiting for? If you're a fan of maple syrup, plan your visit to Bayfield, Ontario. Follow the Maple Syrup Trail, visit the popular sugar shacks, and attend Maple Mania to experience the sweetest side of Ontario's west coast. And don't forget to indulge in the delicious maple-themed menus at the participating restaurants during Maple Mania!